A Beginner's Guide to Basements & Underground Homes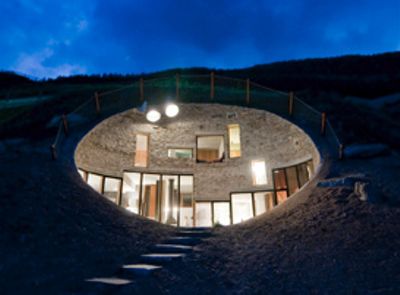 Building an extension may be the obvious way to add extra living space to your home, but extending outwards will result in a loss of valuable garden. A growing trend is to create additional accommodation beneath a house by either enlarging an existing cellar or creating a brand new basement, which may be used for anything from a home office to a gym, TV den or open-plan kitchen/family room.
For selfbuilders in the UK, basements are becoming more popular, making good use of restricted plots and sloping sites. Reinforced masonry construction is popular, and permanent insulated formwork or pre-cast concrete panels are also suitable for this form of construction. The Basement Information Centre promotes the greater use of basements and provides information for those interested in basement construction (www.basements.org.uk).
RULES & REGULATIONS
Converting an existing residential cellar or basement into a living space is, in most cases, unlikely to require planning permission. This is provided it's not a separate unit and that the usage and external appearance of the property are not significantly altered.
Major works to excavate a new basement, add a new separate unit of accommodation and/or alter the external appearance of your house, such as by adding a lightwell, are likely to require planning permission. As always,
building regulations will apply and owners will need consent for any internal or external work on listed buildings. Visit www.planningportal.gov.uk.
In all circumstances, you should contact your local planning authority for guidance before starting any work. You can apply for planning consent yourself or employ a professional architect or specialist basement company. Most projects, because they have little visual impact on a house and don't overlook neighbours or block their natural light, are considered to be non-controversial forms of development. If, however, you live in a designated Conservation Area, you will need to find out whether there is any general objection to basements and, if not, what guidelines have been laid down relating to external appearances.
If your property is a shared building or has shared grounds, or you are a leaseholder, you should serve the appropriate notices on all the other parties as part of your planning application. As a leaseholder, you will also need to fill out a form to confirm you have given notice to the freeholder. This really means confirming you have written to them alerting them to your plans. The freeholder's consent in principle must be obtained before applying for planning permission. Most leases do not allow structural alterations to be made without this, so refusal would put a halt to the whole project.
The Party Wall Act provides a legal framework for preventing and resolving disputes in relation to boundary walls, party walls and excavations near neighbouring buildings. So unless you live in a detached property standing in its own grounds, you will need to reach an agreement with your neighbours over shared walls and the correct notices must be issued and consents obtained from them at least two months before work begins. Log on to www.communities.gov.uk for more detailed information or speak to your architect, contractor or solicitor. You will also need to ensure that any proposed lightwells are on land owned by you and do not impinge on any shared parts of the grounds, or obstruct a right of way.
To comply with building regulations and to ensure cellars and basements will be inhabitable, your walls may have to be underpinned and the floor dug out further in order to achieve sufficient head height in the new space. Because of this you may need to add structural supports, such as steel beams. Your architect or a surveyor can advise you. Any structural work done on a basement room will need to be passed by the local authority building inspector to make sure that it won't impact on the rest of the house or the neighbours' properties, and that your proposed plans can be supported.
A basement normally only has one access point in and out of the room. If you are planning to use the space as additional living accommodation, however, you will need to provide an extra means of escape in case of fire. An emergency escape route can take the form of a window or another door, as long as you can demonstrate that in, the event of a fire, there is another way to get out of the basement.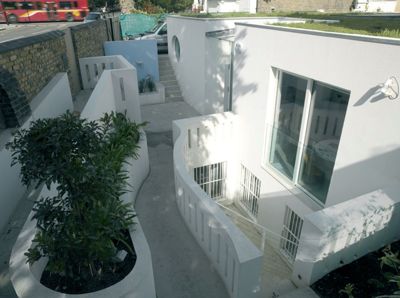 BUILDING WORK
The ease of creating a basement room will depend on whether or not your property has an existing cellar and on the intended usage and size of space required. Typically, existing cellars tend to have limited headroom – insufficient for accommodation – and only extend under part of the area of the property. So even with a lower-ground floor in place, excavation work will be necessary. Though building regulations do not stipulate a minimum head height, except at stairways, if the space has noticeably less headroom than the rest of your home, it won't add as much value to the property. Bear in mind that adding the waterproofing, underfloor heating and some flooring finishes will affect the available headroom by requiring the floor to be raised. A specialist basement-excavation company can ensure the space is substantial enough to accommodate layers of waterproofing and the installation of new electrics, plumbing and the finishes you want.
A new basement can be added by use of specialist underpinning. It is also possible to add a basement under an extension while it is being constructed, but this, too, may require the existing property to be underpinned. To avoid this, the basement must be kept at a sufficient distance away with its superstructure bridging back to the existing property; talk to a surveyor. There are several ways of waterproofing the structural walls of a basement and the specific method used will depend on the ground conditions and the means of construction. The method used is likely to be tanking, using some form of membrane, such as bonded sheet or cavity drain membranes.
DIY?
Generally, basement conversions are not a DIY job, at least with regards to the main alterations. The reason is that if you need to lower the floors to increase headroom, it may undermine the foundations, leading to instability or even the collapse of the supporting walls. Headroom can be increased, however, through underpinning techniques – as employed by specialist companies, who will typically have appropriate insurance cover and be able to offer warranties.
If your home is attached to another property – a semi or terrace – or is a ground-floor flat with an existing cellar, the Party Wall Act may apply. It covers work carried out to existing party walls, at or astride a boundary, and where there is a proposed excavation within three to six metres of neighbouring structures, depending on the depth of the hole or proposed foundations. A submission for building regulations will also be required and you must show that adequate precautions have been taken to prevent moisture ingress into habitable areas.Although the waterproofing is a possible DIY job, again it's probably best left to specialist companies because the ground conditions, external materials and the state of your walls and floors all have to be assessed. It may even require a pump, sized to suit the project. DIY is therefore best kept to finishing work rather than the main elements of construction.
COSTS
Building a basement below an existing house can easily cost three times as much as building a basement beneath a new home. Constructing a basement from scratch will cost between £600 and £1,300/m2, plus VAT. This is for a shell space only – leaving concrete walls and floor ready for the first fix, i.e. when wiring and plumbing go in ahead of plastering and other surface finishing. Factors that will influence these costs include: digging below the water table; difficult ground conditions such as if it's unstable or is solid rock; a need to divert existing services, such as drains; poor access; a long distance to the nearest tip; and the need to underpin parts of the existing building.
Constructing a new basement under an existing house and underpinning the walls will cost £1,600-2,200/m2, plus VAT for the shell space. As well as the factors above, affecting these costs is the need for any party-wall agreements with neighbours and a ground-borne concrete ground-floor structure, rather than a suspended timber-joisted floor.
Turning an existing cellar into habitable space by tanking and insulating the walls will cost £450-650/m2, plus VAT, again to first-fix stage. The same factors will increase the costs, including the need to move services, lowering the floor level to increase ceiling height, adding lightwells or a new entry.
All these cost guides exclude design and engineer's fees. If you use a tanking or basement specialist, they may include engineer's drawings and calculations as part of a design-and-build contract. They may also include an insurance-backed guarantee scheme.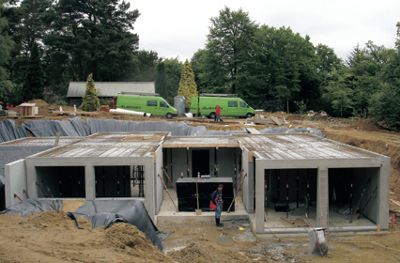 LIGHTING
Light is key to the success of any basement space, and a source of natural daylight is of immense value. A lightwell is the most obvious way of introducing not only light but also natural ventilation into a basement. A well-designed lightwell complemented by tall windows or glazed doors at basement level will provide both, and also totally change the feel of a space, making it seem more like any other room.
There are potential planning issues – notably within Conservation Areas – but there are design solutions for most situations. A small opening with a grille over it can make a big difference to the feel of a basement space and add real value. Larger openings can have a full or partial protective covering in toughened glass.
If you are worried that a lightwell may trap leaves, or if space is limited, consider using an ingenious Swiss-made light shaft which uses a glass panel and angled mirrors to boost the amount of available light (www.heliobus.com).
Glazed panels within the ground floor are also a good way of introducing borrowed light into basements, particularly in mews houses or more contemporary properties. Where it is impossible to form an external lightwell, other solutions do exist such as the reflective 'sun-tube' or even hi-tech fibre optic cables linking special light fittings to a solar collector on the roof which will track the sun's path (www.parans.com).
BUILDING UNDERGROUND
Those who live in houses built either partially or entirely under the ground usually prefer the term 'earth sheltered' or 'earth integrated' to describe their homes. Underground houses are rare indeed, but an earth sheltered building is banked on one or more sides with earth or actually dug into the ground itself.
It could be argued that this form of development offers a viable solution to providing houses in the countryside without having a detrimental effect on the landscape, but there is generally a lack of experience and understanding at local planning level, which means that, although there are many new examples of earth sheltered homes in other countries, only a few such houses exist in this country with several more awaiting planning decisions.
Costs may be higher than for above ground structures because, although building materials are largely hidden from view, the services of a structural engineer will be required during the design stages. Additionally, a great level of care is required to
avoid the ingress of moisture into the building, and selfbuilders may have more difficulty with the planning and mortgage application processes.
The benefits of an earth sheltered house are numerous, however, and include lower heating bills due to the insulative nature of the soil. Exterior maintenance is also reduced, and such buildings blend readily with the natural environment which should, in theory, make them more appealing to the planners. Other benefits include a long life expectancy due to their heavy masonry construction, minimal condensation and resistance to fire.
Self Build & Design Magazine is published by WW Magazines.
Copyright 2015 © Waterways World Limited unless otherwise stated.
Waterways World Limited or any subsidiary or partner can not be held responsible for the content of external web sites.