Tip of the week
Be incredibly organised and specific– about what you want, because one person's idea of a simple door handle may not be the same as another's.
Caroline Keenan, who built an eco-friendly family home. See Case study Bright, Green & Beautiful
A Beginner's Guide to Basements & Cellars
A converted cellar can add valuable living space to an existing property, whilst a new basement will maximise the potential of restricted plots and are ideal for sloping sites.
Many period properties in the UK already have cellars, largely as result of our dependence on coal before the advent of electricity. Converting these into a living space is, in most cases, unlikely to require planning permission providing it's not a separate unit and that the usage and external appearance of the property are not significantly altered.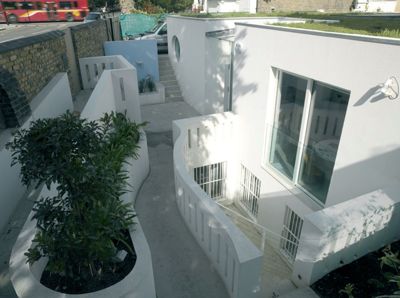 Major works to excavate a new basement, add a new separate unit of accommodation and/or alter the external appearance of your house, such as by adding a lightwell, are likely to require planning permission. Building Regulations will apply and consent is required for any internal or external work on listed buildings.
In all circumstances, you should contact your local planning authority for guidance. Most basements and cellar conversions are considered to be non-controversial forms of development, though the trend for creating subterranean canyons under London streets by a growing number of large home owners has recently raised the ire of politicians.
The powers that be can also be protective about Conservation Areas so it pays to investigate the situation relating to basements and any guidelines about external appearances.
The Party Wall Act provides a legal framework for preventing and resolving disputes in relation to boundary walls, party walls and excavations near neighbouring buildings. Unless you live in a detached property standing in its own grounds, you will need to reach an agreement with your neighbours over shared walls and the correct notices must be issued and consents obtained from them at least two months before work begins. See www.communities.gov.uk for more detailed information.
To comply with Building Regulations and to ensure cellars and basements will be inhabitable, your walls may have to be underpinned and the floor dug out in order to achieve sufficient head height in the new space. Structural supports such as steel beams may be required. Any structural work will need to be passed by Building Control who will check that it doesn't impact on the rest of the house or the neighbours' properties.
A basement normally only has one access point. However, if you wish to use the space as additional living accommodation, an extra means of escape in case of fire will be required. This can take the form of a window or another door.
Construction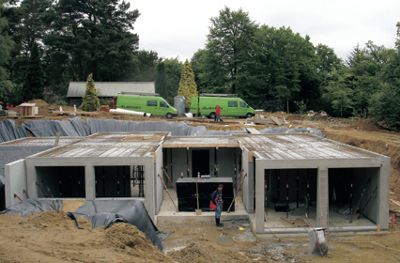 Most existing cellars only extend under part of property and tend to have limited headroom as they were largely intended for storage space. Excavation work will nearly always be necessary. Though Building Regulations do not stipulate a minimum head height, except at stairways, the space should be practical if it is to add value to the property. Bear in mind that adding the waterproofing, underfloor heating and some flooring finishes will affect the available headroom by requiring the floor to be raised.
A new basement can be added by use of specialist underpinning. It is also possible to add a basement under an extension while it is being constructed, but this, too, may require the existing property to be underpinned.
There are several ways to waterproof the structural walls of a basement and the specific method used will depend on the ground conditions and the type of construction. This is likely to be tanking, using some form of membrane, such as bonded sheet or cavity drain membranes.
Basement conversions are not a DIY job because of the risk of undermining the foundations, leading to instability or even the collapse of the supporting walls. Specialist companies employ basement underpinning techniques and will typically have appropriate insurance cover and be able to offer warranties.
Although the waterproofing is a possible DIY job, it's probably best left to specialist companies because the ground conditions, external materials and the state of your walls and floors all have to be assessed. It may even require a pump, sized to suit the project.
Costs
Excavating a basement below an existing house can easily cost three times as much as building a basement beneath a new home. Factors that will influence these costs include: digging below the water table; difficult ground conditions such as if it's unstable or is solid rock; a need to divert existing services, such as drains; poor access; a long distance to the nearest tip; and the need to underpin parts of the existing building.
Turning an existing cellar into habitable space by tanking and insulating the walls may require the need to move services, lower the floor levels to increase ceiling height, adding lightwells or a new entry – all of which will add significantly to your costs.
All these cost guides exclude design and engineer's fees. If you use a tanking or basement specialist, they may include engineer's drawings and calculations as part of a design-and-build contract. They may also include an insurance-backed guarantee scheme.
Lighting
Light is key to the success of any basement space, and a source of natural daylight is of immense value. A lightwell is the most obvious way of introducing not only light but also natural ventilation into a basement. A well-designed lightwell complemented by tall windows or glazed doors at basement level will provide both, and also totally change the feel of a space, making it seem more like any other room.
There are potential planning issues – notably within Conservation Areas – but there are design solutions for most situations. A small opening with a grille over it can make a big difference to the feel of a basement space and add real value. Larger openings can have a full or partial protective covering in toughened glass.
Glazed panels within the ground floor are also a good way of introducing borrowed light into basements, particularly in mews houses or more contemporary properties. Where it is impossible to form an external lightwell, other solutions do exist such as the reflective 'sun-tube' or even hi-tech fibre optic cables linking special light fittings to a solar collector on the roof which will track the sun's path.
CASE STUDIES
For ideas and inspiration from SelfBuild&Design take a look at our Case Studies and search for Building type: Basement
Self Build & Design Magazine is published by WW Magazines.
Copyright 2017 © Waterways World Limited unless otherwise stated.
Waterways World Limited or any subsidiary or partner can not be held responsible for the content of external web sites.