Tip of the week
Be incredibly organised and specific– about what you want, because one person's idea of a simple door handle may not be the same as another's.
Caroline Keenan, who built an eco-friendly family home. See Case study Bright, Green & Beautiful
The first steps to self building
Many would-be selfbuilders get excited at the thought of a project, but then balk at the size and complexity of the task. Common fears are lack of knowledge of the building trade, a belief that they are not sufficiently practical, and an anxiety that their main life asset - their home - may be put in jeopardy if things go wrong.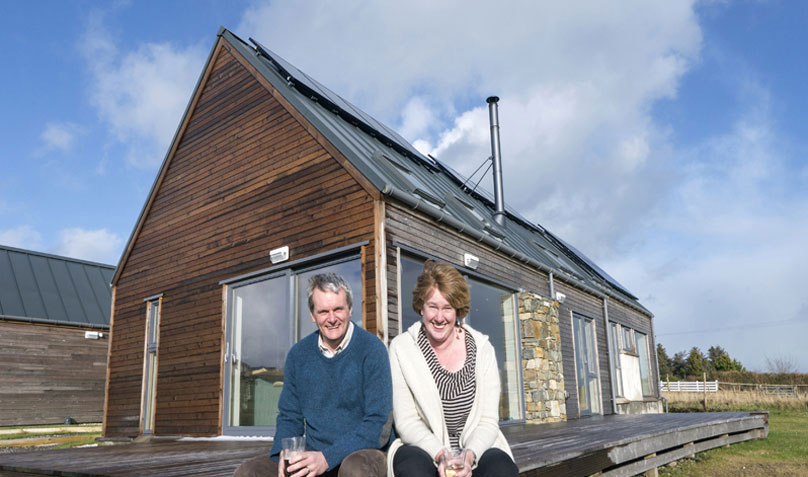 The simplest answer to this is: don't worry! Self build may seem like a lonely path but an estimated 20,000-25,000 people build their own homes each year in the UK. Ninety to 95 per cent have never built anything before. The majority end their projects successfully. Most contribute only marginally in practical terms - their input is mainly organisational.
They also come from all backgrounds and all ages, though they tend to be existing homeowners. Other popular categories include couples in their 30s and 40s with young families who are keen to leap two or three rungs in the housing ladder, and empty-nesters, people coming up to retirement, perhaps living in a large home where they brought up their children, who want to downsize to somewhere smaller, easier and cheaper to maintain. What this disparate group does share, however, is the ability to organise.
That includes knowing how to work out a budget, how to prioritise, how to negotiate - often the most worrying aspect to the beginner, but a skill that develops with surprising ease - and, perhaps most important of all, knowing how to ask questions. And to go on asking until you get an answer that makes sense!
All that can be summed up by the term 'project management' - something many of us do all the time in our jobs or social and family lives. On top of that, there is more help available to the selfbuilder than ever before, and not just in terms of information provided by magazines like this one.
Self build currently represents around 25 per cent of the detached house building market and around 15 per cent of the housebuilding market as a whole. That makes it bigger than any single commercial developer. Rather belatedly, both the lending and the building industries have woken up to this fact.
Even five years ago building societies and banks would have looked askance at anyone trying to finance their own house build; builder's merchants could be distinctly hostile to non-trade outsiders.
Now around 40 banks and lenders have mortgages specifically tailored for self build, and major builder's merchants, like Jewsons and Travis Perkins, actively court the selfbuilder who is seen as reliable, well organised, motivated and with a great deal of money to spend. Their custom is welcome.
CASE STUDIES
For ideas, inspiration and to see the experiences of others take a look at our SelfBuild&Design Case Studies
Self Build & Design Magazine is published by WW Magazines.
Copyright 2017 © Waterways World Limited unless otherwise stated.
Waterways World Limited or any subsidiary or partner can not be held responsible for the content of external web sites.