Tip of the week
Be incredibly organised and specific– about what you want, because one person's idea of a simple door handle may not be the same as another's.
Caroline Keenan, who built an eco-friendly family home. See Case study Bright, Green & Beautiful
A Beginner's Guide to Timber Frame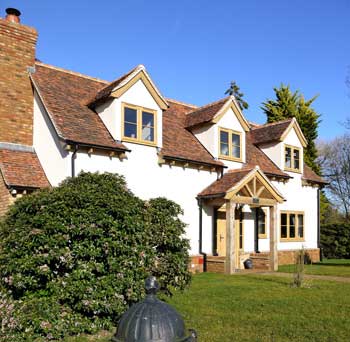 When people talk about timber frame they are usually referring to building using prefabricated panels. From the outside it is impossible to tell a timber-framed house from a masonry one, because the external cladding is unaffected by the choice of internal walls. The outer decorative 'skin' is finished in the same way as any traditional block house, using bricks, stone, timber cladding or rendered blockwork.
Unlike a block wall, which is built one block at a time, timber panels are lightweight and easy to manufacture, and the system lends itself to being prefabricated off-site. Factory-manufactured timber frames guarantee high levels of accuracy and quality, significantly simplifying on-site construction, which can often take just a few days. Timber frames require accurate, level slabs with only a few millimetres of tolerance, compared to brick and block walls, which can accommodate greater discrepancies by varying the depth of the mortar beds.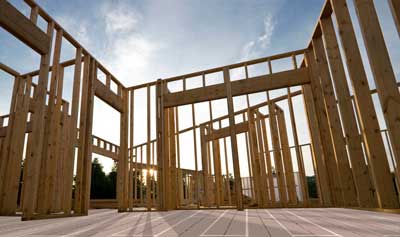 During construction the softwood frame is usually made up storey by storey, known as platform framing, and exterior wall panels are nailed together. The plywood bracing layer is covered with a moisture resistant breather membrane, nailed or stapled to the external sheathing, designed to prevent rainwater penetration and to allow moist air to permeate through to the outside. This and the polythene vapour barrier mean that the timber frame inner skin is quickly protected from the weather. All other components are usually added on site once the weatherproof shell has been erected: the void is filled with high performance, non-combustible insulation, and the frame is covered internally by plasterboard.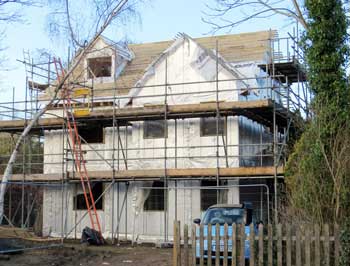 In most cases, the internal dividing walls of a timber frame house are stud partitions, insulated and finished in plasterboard. As the entire inside of the house is formed by a wooden frame the installation of internal services and insulation is straightforward, with fewer 'wet' trades involved.
Roofs are constructed in timber and are supported on the structural timber frame, internal load-bearing timber wall panels and party wall frames. A timber frame design is an engineered solution, which means that a structural engineer will need to prove that the structure is capable of bearing the imposed loads. Extending a timber frame house can be more complex than changing the layout of a block-built house, as any alterations must be carefully calculated to ensure that the overall building remains stable.
Some companies take their off-site fabrication one stage further and install the insulation, glazing and doors at the factory. The walls, floors and sometimes even the roofs of these closed panel systems are then delivered to site ready for erection, resulting in an airtight building envelope. Popular in northern Europe, this method has been adopted by some suppliers in the UK – ensuring faster build times and less reliance on good weather conditions.
Take this idea one stage further and you have modular building – where an entire house can be finished inside and out, with windows, doors, bathrooms and kitchens all factory built in a number of boxes which are simply assembled on site.
Suppliers
There are specialist timber frame companies which provide a highly engineered frame in kit form. The UK Timber Frame Association lists more than 300 member companies.
Putting up a timber frame is best handled by the experts – and preferably someone already familiar with the chosen system. Most timber frame suppliers insist that their own people, or a builder recommended by them, erect the frame, and to do otherwise may affect the warranty. Some of the larger manufacturers have teams on their permanent staff, but most employ subcontractors as they are needed.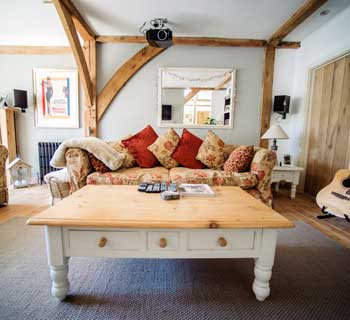 Timber frame suppliers can be loosely divided into those offering modern style panel walls and those who provide post and beam designs – where the weight is borne by heavy timbers and the external walls provide a protective layer of weather-proofing. These traditional post and beam styles are ideal for those who prefer the character of exposed timber in their interiors, although it's important to ensure that structural posts are positioned for maximum effect and minimum inconvenience.
A timber frame house is very different to masonry construction, and structural calculations are usually carried out in-house by the manufacturer. Although most companies will have standard designs, which may be adapted to suit, they can offer one-off bespoke houses.
Costs
The cost of a timber frame home is similar to a masonry construction but the total project costs can be cheaper because factory fabrication is faster and more predictable.
Manufacturers will usually require payment for the frame up front – sometimes for the entire amount – which will affect your cashflow.
Package deals can include the design and assembly of the frame right through to a complete 'turn- key' build, and provide various levels of service depending on your location. Manufactures can supply doors, windows, staircases and other joinery as part of the overall package, but make sure you study the small print carefully so that you're certain about what is being provided for your money.
Build time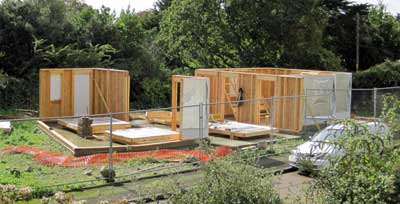 One of the main benefits timber frame construction is the purported fast build speed but you will need to make sure that your frame is ordered well in advance, as a 12 week wait is not unusual.
Once the foundations are completed the panels can be assembled on site, the roof constructed, sheathed and battened, and finally the windows and external doors fitted. A kit can take anything from three days to several weeks to erect, depending on the size, the site and weather conditions.
Once the shell is watertight the internal trades can start work, as the walls are dry-lined, there is no drying out time required for wet plaster prior to decorating.
Energy efficiency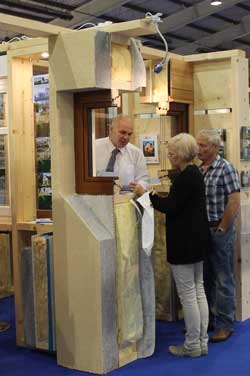 Timber frames are largely hollow and therefore relatively easy to insulate to a high standard, whilst maintaining a clear cavity between the frame and the external cladding. A timber frame has less mass than a solid masonry home and will therefore heat up and cool down more quickly – making it prone to fluctuations in temperature. Heat retention will therefore be a major consideration. Timber is a naturally insulating material, however, and timber trade technology has developed so that properties can be designed which require no space heating systems at all – completely eliminating heating bills.
An increasing number of selfbuilders want to build very low energy houses, in advance of current Building Regulations.
Whereas 90mm timber frames were once the industry standard, selfbuilders are now choosing the 140mm option, which is capable of accommodating Scandinavian standards of insulation. Reflective vapour control layers and airtight membranes can further enhance thermal performance and increase the overall U-value.
Thicker walls are never particularly desirable, as they take up valuable living space and cost more to construct, but the external wall thickness of a timber frame clad in bricks can be kept below 300mm while still maintaining a cavity and delivering U-values of 0.20 W/m2K or less.
Sound insulation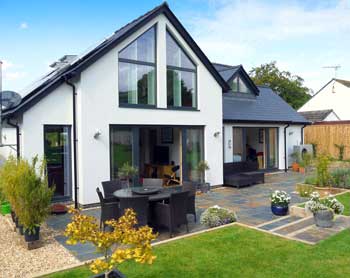 One advantage of a masonry house used to be the ability to construct solid pre-cast concrete upper floors, which reduce the passage of sound between floors. Now, however, it's possible to have a poured screed pumped onto timber floors which is also ideal for carrying underfloor heating pipes.
Good detailing in timber-frame houses can also reduce the impact of airborne sound transmission, and there are numerous acoustic insulations on the market, as well as heavier wall linings, which mean that new timber-frame homes are as quiet as block houses – although the additional cost of materials should be taken into consideration in your budget.
The environment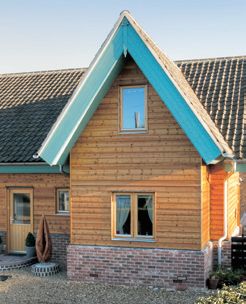 Timber is a renewable resource which is non-toxic and completely organic. Wood is effectively a carbon neutral material – even allowing for transport – as growing trees absorb carbon dioxide and produce oxygen. The carbon is stored for the life of the tree and the building and, at the end of its life, the wood can be recycled into new products or burned for energy as a substitute fossil fuel.
Converting timber into a usable building material takes far less energy and generates fewer greenhouse gases than any other mainstream alternative, including steel and concrete.
CASE STUDIES
For ideas and inspiration search our case Case Studies for Building Method: Timber Frame
Self Build & Design Magazine is published by WW Magazines.
Copyright 2018 © Waterways World Limited unless otherwise stated.
Waterways World Limited or any subsidiary or partner can not be held responsible for the content of external web sites.