Roofs and Roofing
If you're building a new house or extension then the roof is perhaps the most important element of the design in terms of appearance, function, energy efficiency and outlay.
A flat roof combined with a cantilevered pitched-roof wing on this modern new build
An architect or designer will be able to advise on suitable roof shapes and coverings for your home, ideally creating realistic computer graphics to help envisage the end result in relation to neighbouring properties.
The overall effect of the roofscape should be considered, including the shape, colour, chimneys, rainwater goods and overhangs. Complicated roof shapes can be attractive but may appear overly fussy on a relatively small area, can prove expensive, and may create maintenance problems.
Height restrictions are a common problem, which can be overcome by building the upper storey of a house projecting into the roof space, producing sloping ceilings in the rooms directly below. This can add character, but also creates a degree of dead space towards the outer edges of a room, where head height is limited.
The pitch of a roof is particularly important and may potentially rule out certain roof coverings as unsuitable, in terms of weight or fixings.
A typical roof pitch in the UK is between 40 and 50 degrees, although they can be less or much greater.
The elements that make up a roof
---
Roof types
Gable

Classic pitched design, made up from two inclined roof planes forming an inverted V-shape. They are simple to build, shed rainwater easily, and create more interior space for attics or vaulted ceilings.

Hip

A variation of the gable, with slopes on all four sides. These planes meet at the ridge, making them sturdy and durable.

Mansard

A classic design, which is essentially a gable roof with bent planes. These four-sided roofs have a double slope on each side which meet, forming a low-pitched roof and creating additional living space. The sides can either be flat or curved and the lower slope is much steeper than the upper.

Flat roofs

Simply constructed and found on contemporary homes and extensions - keeping the new structure low to preserve views from upstairs windows and avoid overshadowing. They consist of one horizontal plane, with a low angle of inclination to ensure effective water drainage and avoid leaks.

Flat roofs are often less expensive to install than pitched roofs and may be finished in traditional roofing felt, rubber, a single-ply membrane, glass fibre or metal. If visible from upper windows, then a planted roof is an attractive option.

Lean-to, monopitch and skillion

These are 'flat' roofs angled at more than 15 degrees.

Two lean-to roofs which aren't positioned symmetrically, create a contemporary appearance and as the roof planes are at different heights a vertical opening appears which may be glazed to bring in light.

Butterfly

Made up of two skillions, the roof angles downwards towards the centre, giving the impression of wings.
---
Repair and replacement
Planning permission isn't usually required for re-roofing your house, subject to certain conditions, which can be found on the planning portal website.
If you're repairing or replacing less than 25 per cent of a roof you won't need to submit a Building Regulations application.
If the new roof covering is significantly heavier or lighter than the existing one, the roof structure may require modifying or strengthening, and a structural engineer or surveyor should advise you before work begins. For larger repairs or replacement roofs the thermal insulation will usually have to be improved to meet current regulations.
Many houses built in the 1950s, 60s and 70s were roofed in ugly, poor-quality concrete tiles. Changing these can totally transform the appearance of a house and homeowners are increasingly choosing this option for the aesthetic appeal alone – regardless of whether the roof actually needs to be replaced. Others go one step further and totally alter the shape and pitch of their roof, which can involve major structural work.
Changing your roof can be both expensive and disruptive, but it can also have a huge impact on the overall look of a house.
Some roofs will last for more than 100 years, others will deteriorate after 40 or less, depending on the roof covering, the location of the house and the workmanship.
It's not usually advisable to undertake major roofing work on a DIY basis. Go to the National Federation of Roofing Contractors website to find a reputable roofer in your area.
---
Structure
Cut roofs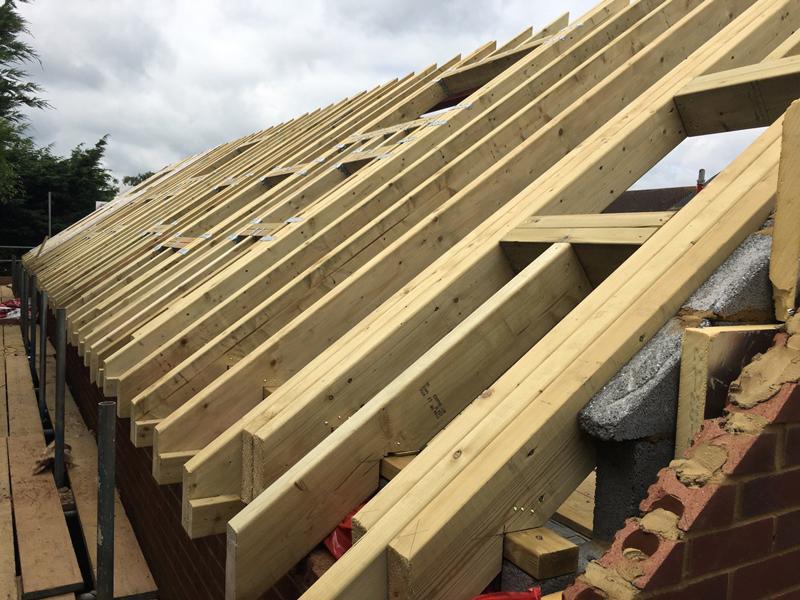 Traditionally measured, cut and assembled on site using rafters and joists. This is a relatively expensive and time-consuming process, but the finished structure may be easily altered or converted into living space later.
Trussed roof (FINK)
Delivered to site complete for simple erection as a series of frames, these can't easily be altered. An inexpensive form of construction best suited for simple designs to avoid complex carpentry, but now largely shunned by selfbuilders, who want to maximise the livable space of their new home.
Attic trusses
These maintain the speed of erection achieved with a pre-manufactured roof truss and allow the roof space to be utilised by leaving the main loft area open. Ideal for complex roof shapes and difficult access but are heavier and more expensive than fink trusses.
Laminated timber beams and I-profile rafters
Stronger, lighter, cheaper and more environmentally friendly than solid timber, and may be used for large spans.
Green oak
If you want to create a dramatic feature an oak structure with cruck beams is truly impressive.
SIPs
These arrive on site pre-cut, with the insulation already fitted, and span from wall to ridge beam, usually without any further support.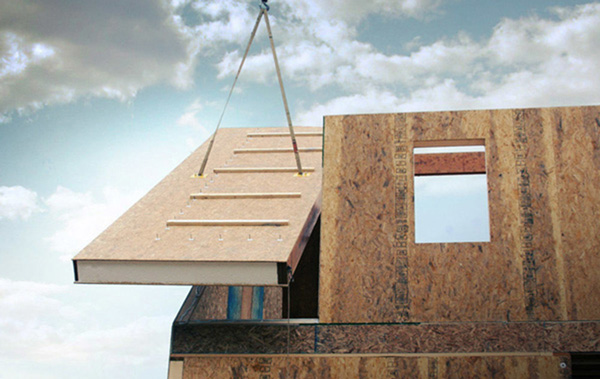 As the structure doesn't require roof trusses there is space for a well-insulated and habitable room in the roof, which can be left completely open to be used as further accommodation, storage or to form a vaulted ceiling. This makes SIPs well-suited for roof construction for new builds, extensions or replacement roofs – potentially providing an additional 25 per cent of floor space at no additional cost.
SIPs can potentially provide an additional 25 per cent of floor space at no additional cost.
---
Materials
The roof of a new home can be covered in anything from turf to metal, shingles or glass, as well as more traditional slates or tiles, with fantastic eye-catching shapes, roof lanterns and possibly solar panels.
A prefinished steel standing seam roof
Emphasis is often placed on selecting the type and colour of roof covering which will satisfy the planners, and it's important to choose this prior to felting and battening, as the spacing of the battens is set by the gauge of slate or tile and varies considerably.
Typical costs for re-roofing a three-bedroom detached house can cost from around £6,000 for concrete tiles, £12,000 for natural slate or clay tiles and £16,000 for thatch. Metal roofing is usually the costliest at £20,000 or more.
Prices will vary depending on where you live, the shape, size and pitch of the roof, who undertakes the work and other variables.
Try to see your chosen roofing in person, rather than just from a catalogue, and wet any samples to see how they will look in the rain, as colours can change dramatically.
Slates
Perfect for both traditional and contemporary homes, and are a mid-priced option, with Welsh slate being one of the more expensive choices compared to imported slates from Spain, China and Brazil.
Handmade clay tiles
Beautiful but more expensive than machine-made versions. It's also possible to buy replica slates or clay tiles, which are cheaper and can look very convincing.
Concrete tiles
Around 20 per cent cheaper than clay but won't weather or improve with age.
Stone
If you're building in a stone belt, such as the Cotswolds, the planners may insist you use local materials.
Reconstituted stone
A less expensive stone tile alternative.
Metal
Zinc or copper is usually a contemporary choice and comes in flexible sheet form, making it ideal for curves or flat roofs. Zinc forms a protective patina, so it won't rust and is resilient, fire-proof, maintenance-free and recyclable. Left to patinate, natural grey zinc will turn lighter as it ages, or it can be finished in a range of colours. Specify matching guttering and downpipes for a unified finish.
Standing seam roof
Prefinished steel standing seam roofing is becoming popular. The system from Colorcoat Urban consists of flat metal panels with upstanding seams that interlock with the next panel to create a weather resistant seal.
A standing seam roof from Colorcoat Urban.
It can be installed at pitches of just five degrees to create headroom in attics or to reduce ridge height, while offering a wide range of roof profiles from simple mono-pitch and saltbox-style roofs, to more complex designs including clerestory, butterfly and double-pitched M-shaped roofs.
Thatch
Mainly used for restoring and replacing existing roofs, as few are built from scratch. The house is usually designed around the roof, which is expensive and requires regular upkeep. The National Society of Master Thatchers holds a directory of members.
Glazed
Particularly useful where windows are small or restricted, and are ideal for new extensions, which are often single storey. Instead of a standard framed roof light, consider glazing a larger area using structural glass to bring light into the heart of a room and create a talking point.
Heat loss is a major consideration when installing a glass roof, which will need to meet Building Regulations requirements for energy efficiency, structural stability and fire safety.
Structural glass is heavy and will need adequate support, careful measuring and installation. An architect, structural engineer or glazing company can advise.
A structural frameless glass roof on an extension to a period property supplied and installed by IQ Glass.
It's possible to install completely seamless, frameless glass roofs to enjoy unobstructed views, but it may be advisable to fit remote-controlled blackout blinds to bedroom roof glazing. Choosing self-cleaning glass means that any debris will be washed away in the rain, and an opening roof light may be needed during warm weather in more enclosed spaces.
Green
Turn a flat roof into part of the landscape which can provide a variety of colour throughout the year, depending on the plants grown. Popular choices are sedum or wildflower mixes, which need little or no maintenance other than watering in extremely dry weather and are available as pre-planted mats specifically designed for roofs. Plan the design early on so that the roof structure can support the weight of the soil and will be built at the correct angle to prevent slippage - it is not recommended that a green roof is built on a slope of over 10° without specialist advice. An experienced roofing company should be able to advise and quote for the work, which will include a layer of waterproof membrane that is also root resistant to protect the structure below, and appropriate drainage to prevent the roof becoming saturated.
---
Roofing Top Tips
With any roofing it is important to consider who will actually be undertaking the work and the amount of skill and experience required.
Never buy from a catalogue without first seeing samples, and try to view the chosen product in place on a roof before you make your final decision.
A single slate or tile can look very different from an entire roof, viewed from the ground. Also make sure you wet any sample roof covering to see how they'll look in the rain, as the colour can change dramatically.
---
This Beginner's Guide to Conversions is from the June 2020 issue of SelfBuild & Design magazine.
See other content June 2020 magazine »